Internet T1
Moving your data at the speed of business
A slow or unreliable Internet connection can cripple or even halt your ability to conduct business. You can have confidence in NuSound's Partnership with reliable Internet T1 service because we designed it to support business critical Internet applications – like uploading payroll files, sharing data between multiple locations and connecting on-site web, email and DNS servers. Work with a partner who can keep up with the pace of your business.
When only the best will do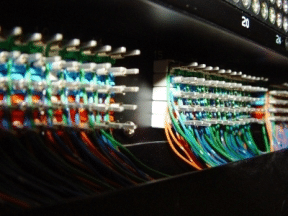 NuSound's Internet T-1 service was engineered for business-class performance and can be customized to meet your unique needs.
Symmetrical upload and download speeds – 1.5Mb both ways simultaneously – perfect for businesses hosting on-site web or email servers.
Widely available – T1s aren't distance sensitive like DSL.
Get the speed you need – Guaranteed, dedicated speed can be increased by bonding additional T1s for up 12Mb of bandwidth.
Reliable, robust network – NuSound offers a best-in-class national IP network engineered to deliver the responsiveness businesses require.
We won't leave you hanging
On-site installation and activation – An experienced NuSound Field Service Technician will ensure your specifications are met.
Router provided – Several router models and configurations available. Choose the hardware best suited to your network.
IP address blocks available – Complete your solution with the IP addressing blocks you need.
Live 24 x 7 support – One local call for assistance with all of your NuSound's services including voice, Internet and phone systems.